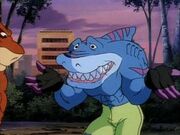 Bobby (Robert) "Streex" Bolton, Jr. is the token "cool' brother, self-proclaimed ladies" man. He's seen everywhere wearing his rollerblades, and appears to enjoy extreme sports like street hockey, parachuting, and snowboarding. Later on, he demonstrates the ability to play drums professionally. When he transforms into Streex, he becomes a Tiger Shark. He gets his name from the purple streaks on his body. In the pilot movie (eventually to be episodes 1-3), he was originally called "Blades", due to his skills as a rollerblader. Bobby/Streex was voiced by Andrew Rannells in the 1994 TV series and John Leguizamo in the upcoming live-action film.
Streex was the first to turn into his shark form in Sharkbait and when changing back into a shark in To Shark or Not to Shark.
During the first 3 episodes of season 1, Streex was the only shark seen and known to use a weapon, mostly a wood staff or a pipe bent into the shape of a hockey stick.
Ad blocker interference detected!
Wikia is a free-to-use site that makes money from advertising. We have a modified experience for viewers using ad blockers

Wikia is not accessible if you've made further modifications. Remove the custom ad blocker rule(s) and the page will load as expected.