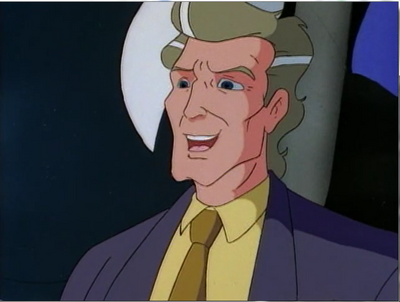 Malcolm Medusa III is a villain in Street Sharks.
Malcolm Medusa III is a rich businessperson and big game hunter who frequently targets endangered animals for his trophies. During one of his developments, he had to fish out a dock worker that fell into the polluted waters. The dock worker became Clammando who works as Malcolm Medusa III's henchman.
He first appeared in "Eco Sharks" where he was using holograms in a place called "Medusa Cove" to hide his illegal polluting activities. The Street Sharks and Moby Lick were able to defeat Malcolm and Clammando.
In "Shark Hunt," he trapped Moby Lick when he tried to stop his poaching on Florida Panthers and other wildlife in the Everglades so that he can develop a chemical waste incinerator there. He then placed the Street Sharks in a twisted hunt as the ultimate form of sportsmanship. He was eventually defeated by the Street Sharks, arrested by the Secret Service, and sent to an island prison with Clammando. Malcolm then makes plans to break out and get his revenge on the Street Sharks.
Ad blocker interference detected!
Wikia is a free-to-use site that makes money from advertising. We have a modified experience for viewers using ad blockers

Wikia is not accessible if you've made further modifications. Remove the custom ad blocker rule(s) and the page will load as expected.